My name is Lynette, and I am a fibre/mixed media artist. My last career was in nursing, 6 years ago I retired from it to seriously jump headlong into an art career. Thanks to my very supportive husband. I dabbled in sewing painting, pottery, quilting, embroidery since I was small. My mother and grandmothers were accomplished at "handy work" perhaps a side effect of being Scottish. You know the saying .. idle hands …. I was signed up for many many courses as a youngster in Victoria B.C. My memories of my mother in those years are of the back bumper of the car as she was zipping off to deposit the rest of my siblings at their activities. When we weren't in a class or school, we would be out for informative walks or perhaps a venture to a potter doing Raku or maybe a weekend to a Gulf Island art show. I am grateful for all the time and effort she gave to me in enriching my life in the worlds of art and nature. I finished a B.A. at Uvic in Psych/Anthro and like many of us in those years what next??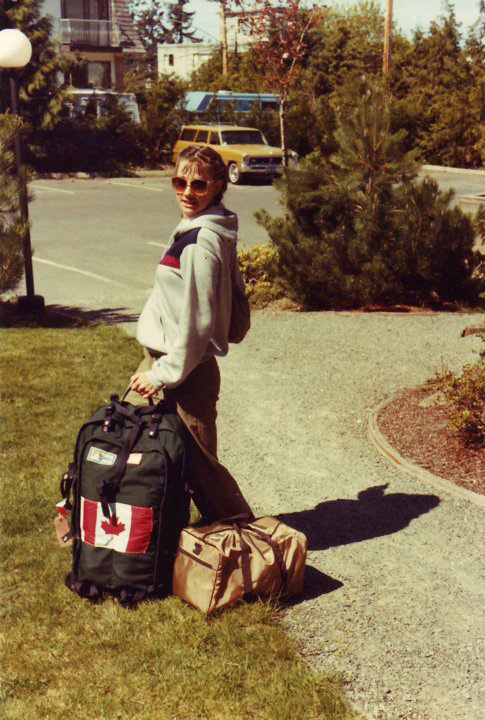 Well travel, backpack of course. What a delight to see the wonders of Europe the ancient master's art, old towns and cities so many new languages, customs and foods, I was enthralled.
Alas, the lack of money and only 3 dollar jobs available I returned back to Canada.
Nursing seemed a logical next step, as it ran in my family for a few generations, followed by marriage and children.
Fast forward to my late 30's I was itching to get back into working with my hands on something other than Halloween costumes or fish painting on kids t-shirts. I took some classes at the Gibsons Fibre Art Festival in machine stitch and hand stitch techniques which were a good beginning but not what I was looking for in marrying paint, paper, thread, textiles, and thick texture. Along with these classes I took many sessions in Intuitive Acrylic Painting with Anita Nairne in Vancouver, a fabulous teacher.
Late one sleepless night ( you know how that goes) while cruising the internet I found a fantastic course in La Conner Washington that was singing my song, Gail Harker – Centre for Creative Arts. I signed up the next day and haven't looked back.
I found learning intricate design and stitching more of a challenge than nursing. Nursing was familiar as I grew up with so many family members in the field, it made sense to me. Learning art on a deeper level is a whole new experience.
One of those experiences was my Ancient Threads piece.
I was intrigued by Japanese Boro. Boro is the accidental art form of tattered cloth pieced together into a new life. It is a handspun Indigo-dyed fabric that is then hand stitched together to repurpose old clothes and household items. I love how time has worn beautiful colour combinations. The holes and tears produce graceful lines that invite the eye to soak in the patterns of intentional and accidental design.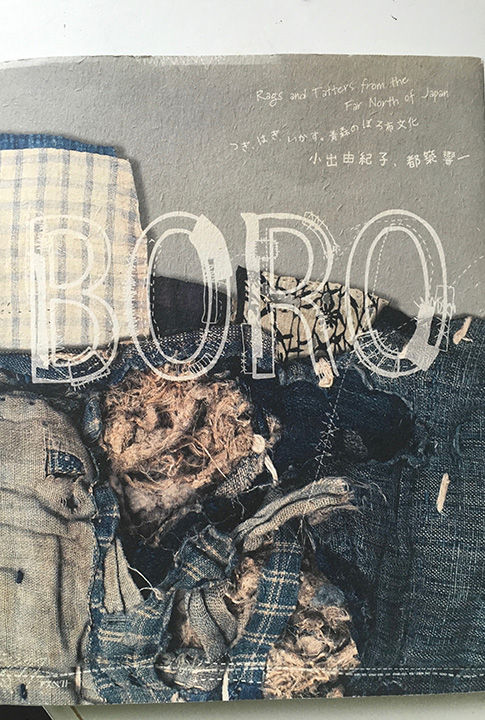 I sketched a few ideas and began the sampling.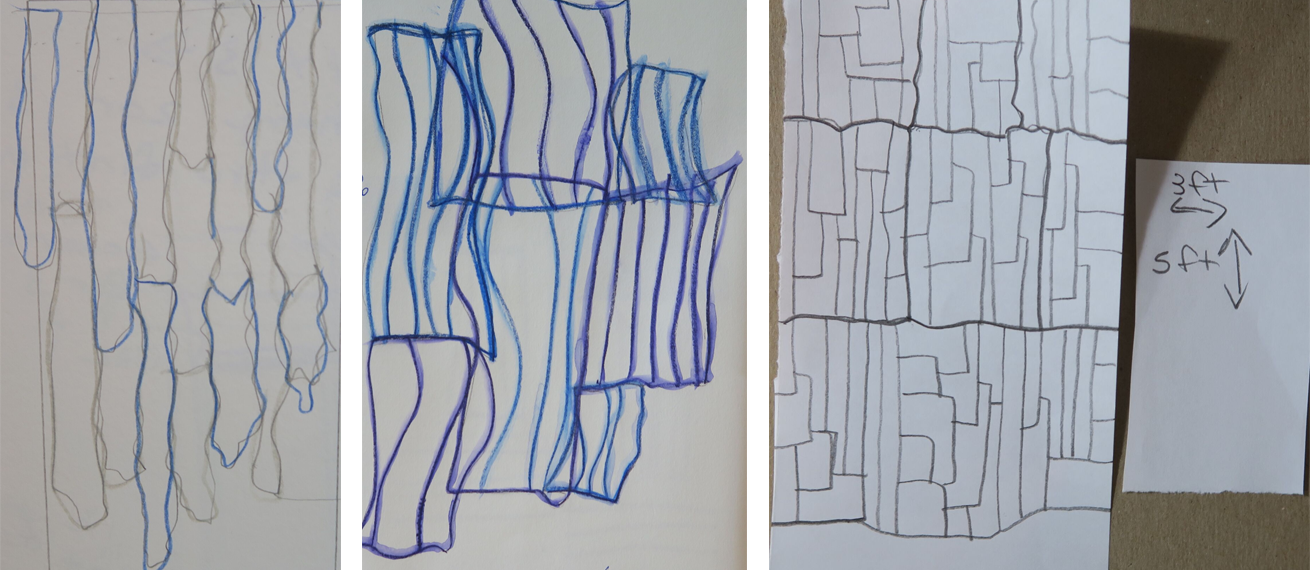 My intention was to create a piece similar to the Boro inspiration but what if I made the cloth threadbare. I started with a base to stitch the threads upon beginning with different weights of cheesecloth. I started small samples and liked the look of the strands pulling and twisting. I used a free motion stitch with the top and bottom tension loosened. I wanted a natural look to the threads, so I used a heavyweight 40 cotton thread.
When I laid out the pieces onto a white 1.5 ft wide x 2ft long, it looked to bulky.
Next up was more space. After many tries, I settled on 3ft wide x 5 ft long. This allowed for the loose free flowing look I was aiming for. Ouch, now my small samples didn't work. Each small sample was too small and scrunchy. The cheesecloth was too bulky even if I pulled threads.
I found a very light breezy fabric from Maiwa silk gauze handwoven from Katazome. This was a perfect weight. The sampling worked even better, the cotton threads pulled and grabbed, so the fabric was pleasantly distorted.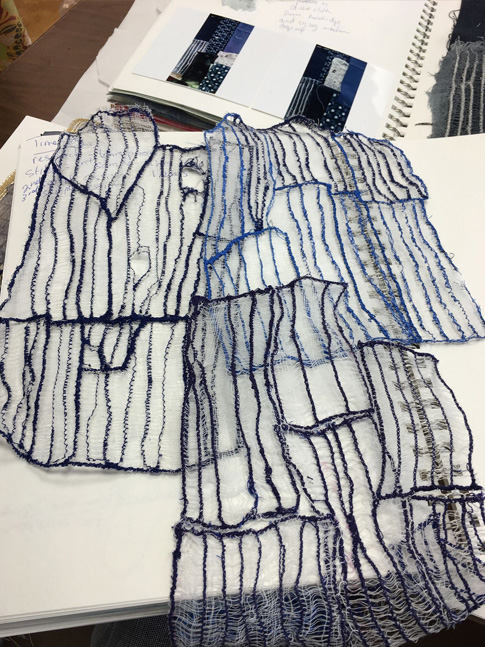 My machine not surprisingly disliked the lack of fabric to grip onto. I tried Solvi as it had worked seamlessly with another project; sadly no luck as it would bunch up and stall the machine. I tried hooping it with a large and small embroidery hoop no luck at all. I could see my sewing repair mans face in my mind having a quiet fit at what I was trying to do.
My final solution was making a frame of tape around the edges and then using a large embroidery hoop along with a boatload of patience. I had to go very slowly, or it would catch.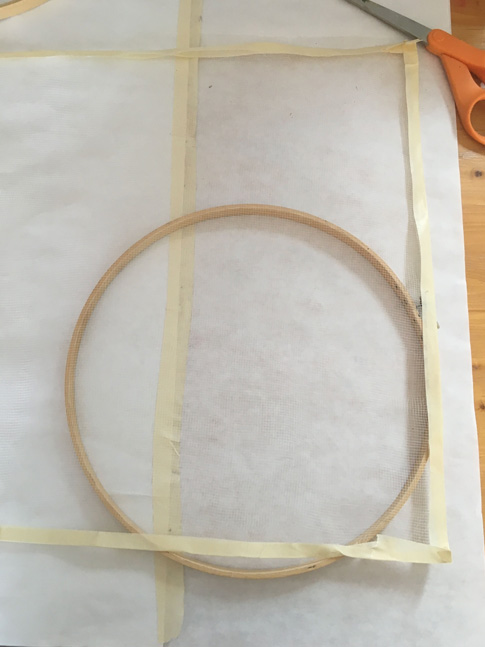 I drew a basic design on the gauze with a black felt pen that I could loosely follow. Success.
A narrow free motion zigzag stitch produced the effect I was pleased with. Each panel I sewed started as 9in across x 14in long it was amazing how differently each panel shrank. It became the standing joke with my husband as at the end of the day for two weeks I would come in from my studio and say only three more panels left. It seemed every time I moved pieces around to get a better design I need three more panels.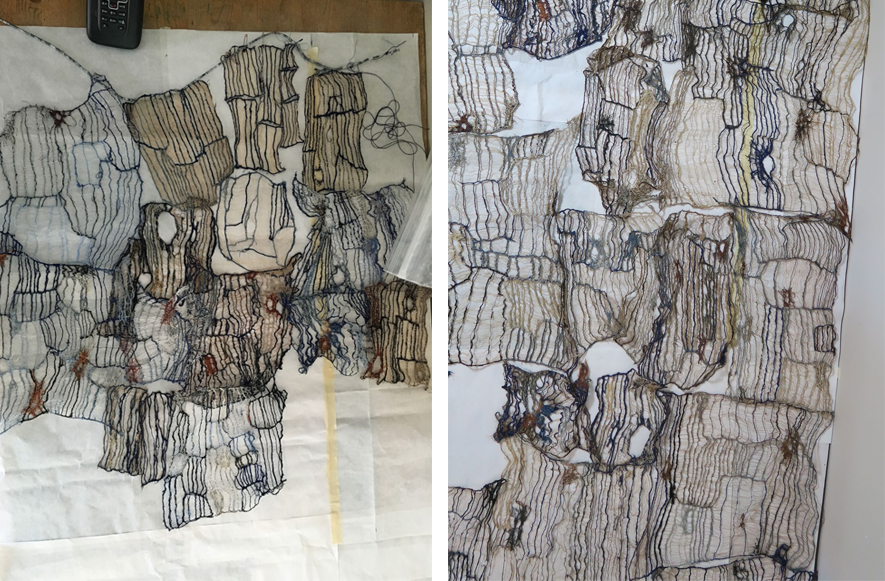 Thankfully the sewing came to an end. I find I love each project at the beginning but am happy to finish up after such intensity. I hand stitched the panels together with fine silk thread leaving sagging holes here and there for further effect.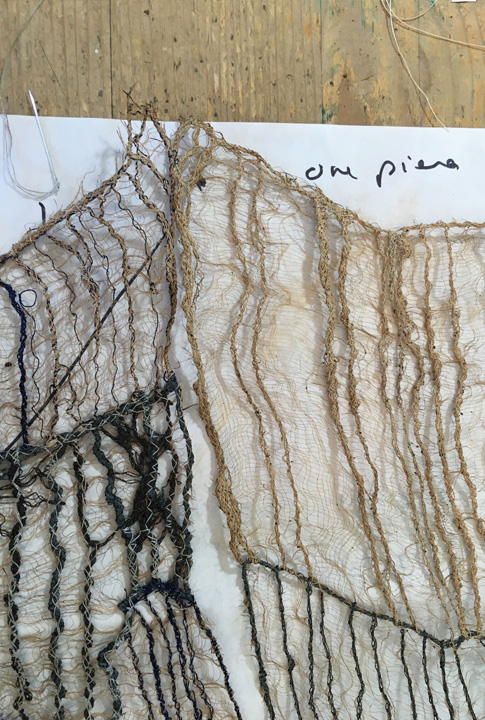 Lastly was the mounting. I wanted the whole piece to be able to move freely and be open. I used a heavy gauge wire attached to the mounting form and hung the project on with safety pins.